You Have Entered Mike's New(er)Big Trouble In Little China Wav Web Page!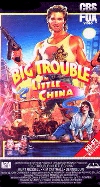 You are visitor


to this site. The last site accumulated 4,720 hits before moving here.
Be Warned! The Big Trouble in Little China Page is always under ( (very) periodic) construction.
Last Updated: 07/27/01 06:40:49 PM
---
This page is a tribute to one of my favorite movies. I have created a nice wav library for you to peruse. I hope you enjoy! A small note: When I was recording these sound bits I didn't know exactly how long to make them. In some cases I wanted small blurbs, in others I wanted a feel for the whole dialog. As you will see below, I recorded a couple of longer segments which capture entire conversations. For these longer files, I went back over them to put the amusing one liners into smaller separate files. If you want long files or short files, they are all in the following table. (as of now I have gone through about 66% of the film )

Thank you for all your support!
Let me know if there are any problems, comments are always welcome.
Mike
If you came to this page from an external site, you can visit Mike's Homepage at www.dahmanator.com
If you want to visit THE BEST BTILC web site, stop by Falcon's Page at http://www.wingkong.net/
---
---
Follow this link to check out some crazy Star Wars quotes.